Alan Ian Probst
Certified Moving Consultant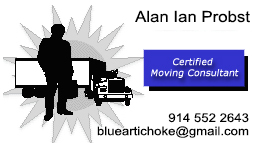 I had worked in the Moving Industry for over 15 years. I have since segued into the Technology industry with a focus on Website design, development and project management, Search Engine Marketing, EaaS, (Everything as a Service) Cybersecurity (Learning) and other technology platforms plus outside Sales and Internet Marketing.
My past expertise includes all aspects of the Moving and Storage Industry with beginnings as a mover/ CDL driver/packer/foreman to principal estimator for household, commercial and long distance moving jobs. I can estimate by the hour, weight and distance, commercial tally loads, ceiling price caps and flat rates with proven accuracy, all in the face of New York City's strict requirements and well-known pressures. Just prior to entering the technology industry, I worked independently as an estimator and outside sales consultant for a number of local moving companies in New York City.

As Moving company estimator, I increased sales by 50% during industry deregulation and increased competition
I Maintained a 75% closing ratio during my 6 year tenure as lead estimator and elite CMC (Certified Moving Consultant) in the highly competitive NYC moving industry, even when positioned as the highest bidder
I developed a system of estimating that earned a reputation for accuracy within 10% of the actual cost of service.
(Place mouse over graphic & hold for duration of animation)
I believe I can save your company money and add to your bottom line as a precision estimator and online "promoter". I can work directly from my laptop via email or fax getting you the results of an estimate within a few hours of an appointment. My Web/Technology skills can help your presence on the Web and hopefully increase your market share throughout the Internet.
For the previous number of years I have held the following positions:
17 Years Freelance Website designer, marketer & Website Project Manager DBA "Redartichoke Media"
Asst. Director of Marketing & Sales for an IBM Business partner, AS/400 start-up consultancy
Internet consultant/IT laison with Marketing Department for 800 employee Jewelry Manufacturing Company - Michael Anthony Jewelers
Moving Industry